My Blog
Posts for: April, 2021
By Latta Family Dentistry
April 20, 2021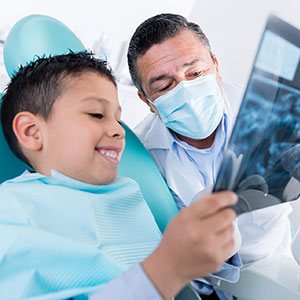 X-rays are so interwoven into dental care that we often don't think twice about them. Even so, we shouldn't take this invisible form of radiation lightly—regular exposure at high levels can affect the human body, especially in children.
The ability of x-rays to pass through tissue greatly improves our ability to diagnose tooth decay and other dental diseases. But x-rays can also potentially harm those same tissues. Because children are more sensitive to x-ray energy, they run a greater risk for cellular damage that could lead to cancer later in life.
In reality, though, these potential risks from x-rays are extremely low—so low, in fact, dental professionals regard their use as altogether safe for children. Here's why.
The ALARA principle. Dentists and other healthcare providers perform x-ray diagnostics based on a principle known as ALARA ("As low as reasonably achievable"). This means dentists only utilize x-rays to gain the most diagnostic benefit at the lowest amounts of radiation exposure. As such, ALARA guides both the development of x-ray equipment and the protocols involved in using them.
Equipment advances. Today's x-ray devices are safer and more efficient, restricting x-ray emissions to a single beam without scattering radiation into the environment. A child's radiation exposure is further lowered with the use of digital x-rays, which produce images in less time than conventional film. Because of these and other advances, children are exposed to less radiation during x-rays than what they typically receive in a day from the outside environment.
Safe practices. Following the ALARA principle, dentists are quite conservative in their use of x-rays in children. The most common means of x-ray is the bitewing, which captures images primarily of the back teeth that are more prone to decay. Bitewings, which require a lower x-ray dosage than a full mouth x-ray, are usually spaced at least six months apart or longer depending on a child's risk for dental disease.
The efficiency of modern radiographic equipment coupled with their judicious use has drastically reduced the amount of x-ray radiation to which a child may be exposed, thus lowering their risk of future health issues. The benefit for saving a child's teeth from disease is well worth their use.
If you would like more information on x-ray safety, please contact us or schedule an appointment for a consultation. You can also learn more about this topic by reading the Dear Doctor magazine article "X-Ray Safety for Children."
By Latta Family Dentistry
April 10, 2021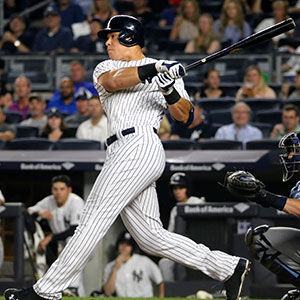 Between the final game of the World Series in late October and spring training in February, major league baseball players work on their skills preparing for the new season. Reporters on a Zoom call to the New York Yankees' training camp wanted to know what star outfielder Aaron Judge had been doing along those lines. But when he smiled, their interest turned elsewhere: What had Aaron Judge done to his teeth?
Already with 120 homers after only five seasons, Judge is a top player with the Yankees. His smile, however, has been less than spectacular. Besides a noticeable gap between his top front teeth (which were also more prominent than the rest of his teeth), Judge also had a chipped tooth injury on a batting helmet in 2017 during a home plate celebration for a fellow player's walk-off home run.
But now Judge's teeth look even, with no chip and no gap. So, what did the Yankee slugger have done?
He hasn't quite said, but it looks as though he received a "smile makeover" with porcelain veneers, one of the best ways to turn dental "ugly ducklings" into "beautiful swans." And what's even better is that veneers aren't limited to superstar athletes or performers—if you have teeth with a few moderate dental flaws, veneers could also change your smile.
As the name implies, veneers are thin shells of porcelain bonded to the front of teeth to mask chips, cracks, discolorations or slight gaps between teeth. They may even help even out disproportionately sized teeth. Veneers are custom-made by dental technicians based on a patient's particular tooth dimensions and color.
Like other cosmetic techniques, veneers are a blend of technology and artistry. They're made of a durable form of dental porcelain that can withstand biting forces (within reason, though—you'd want to avoid biting down on ice or a hard piece of food with veneered teeth). They're also carefully colored so that they blend seamlessly with your other teeth. With the right artistic touch, we can make them look as natural as possible.
Although porcelain veneers can accommodate a wide range of dental defects, they may not be suitable for more severe flaws. After examining your teeth, we'll let you know if you're a good candidate for veneers or if you should consider another restoration. Chances are, though, veneers could be your way to achieve what Aaron Judge did—a home run smile.
If you would like more information about porcelain veneers, please contact us or schedule a consultation. To learn more, read the Dear Doctor magazine article "Porcelain Veneers: Strength & Beauty As Never Before."