My Blog
Posts for: November, 2020
By Latta Family Dentistry
November 18, 2020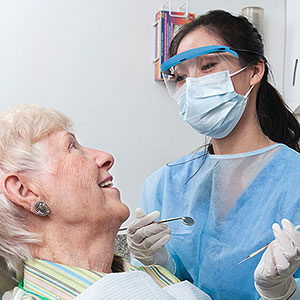 Daily oral hygiene and regular dental cleanings help keep your natural teeth and gums healthy and disease-free. But they're also a priority with dental implants. Here's why.
Unlike other restorations, an implant replaces both a tooth's crown and root, the latter by way of a titanium metal post imbedded into the jawbone. Bone cells grow and adhere to the metal surface, forming a secure and lasting hold.
But although quite durable, this hold differs significantly from natural teeth, which are actually held in place by a tough, elastic tissue called the periodontal ligament. The attachment of the ligament's tiny fibers to both tooth and bone secure the tooth in place, as well as supply it and the surrounding gums with nutrients and defensive antibodies to fight infection.
Implants don't have this relationship with the periodontal ligament. The tissues around an implant are thus susceptible to an aggressive form of periodontal (gum) disease called peri-implantitis. This kind of gum infection can progress rapidly, leading eventually to bone loss and possible failure of the implant.
Daily brushing and flossing of both natural and implant-supported teeth lowers the risk of gum disease, particularly peri-implantitis. It's also imperative that you undergo regular cleanings, at least every six months, with your dentist or dental hygienist.
These, however, won't be the typical cleanings performed on natural teeth. Hygienists don't use metal cleaning implements to remove plaque and tartar deposits because they can scratch the metal materials of the implant and crown. These microscopic scratches can then attract bacteria that trigger gum infections. Instead, they'll use instruments made of plastics or resins.
Hygienists also rely heavily on ultrasonic equipment that vibrates plaque loose on or around implants, which are then flushed away with water. The tips used with these instruments are also typically made of nylon or plastic sheathing.
Even with the extra hygiene care needed, implants still enjoy a 95% or higher survival rate after ten years. You can ensure your implants achieve that level of durability by keeping them clean and seeing your dentist at the first sign of a gum infection.
If you would like more information on maintaining dental implants, please contact us or schedule an appointment for a consultation. You can also learn more about this topic by reading the Dear Doctor magazine article "Dental Implant Maintenance."
By Latta Family Dentistry
November 08, 2020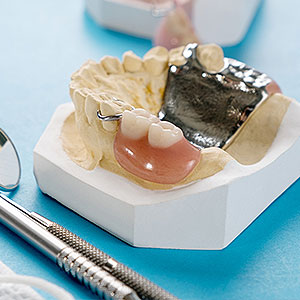 Before implants, people often turned to a removable appliance to replace multiple missing teeth. Known as a removable partial denture (RPD), this appliance could restore both appearance and function at an affordable price.
But although implants may have diminished their use, RPDs haven't gone extinct. They're still a viable option for patients who can't afford implants or fixed bridgework, or who can't obtain implants due to the state of their dental health.
Although replacing only a few teeth rather than an entire arch, RPDs are similar in basic concept to full dentures. The prosthetic (artificial) teeth are anchored in a resin or plastic that's colored to resemble the gums, precisely placed to fit into the missing gaps. This assembly is further supported by a frame made of vitallium, a lightweight but strong metal alloy. The appliance fits upon the arch with the missing teeth, supported by vitallium clasps that grip adjacent natural teeth.
Each RPD must be custom designed for each patient to fit perfectly without excessive movement during chewing. Too much movement could warp the fit, reduce the RPD's durability or damage other teeth. To achieve this secure fit, dentists must take into account the number and location of missing teeth to be replaced, and then apply a specific construction pattern to balance the appliance.
There are RPDs that are meant to be used short-term, as with a teenager whose jaw isn't yet mature for dental implants. But the metal-framed RPDs we've described are designed for long-term use. There is, however, one primary downside: RPDs have a propensity to collect dental plaque, a thin biofilm most responsible for dental disease that could further deteriorate your dental health.
To avoid this, you'll need to keep both the RPD and the rest of your teeth and gums as clean as possible with daily brushing and flossing, and appliance care. And like dentures, it's best to remove the RPD when you go to bed at night to discourage the growth of harmful bacteria.
To see if an RPD to replace your missing teeth is an option for you, visit us for a complete dental exam. From there, we can advise you further as to whether an RPD could affordably restore your missing teeth and your smile.
If you would like more information on RPDs, please contact us or schedule an appointment for a consultation. You can also learn more about this topic by reading the Dear Doctor magazine article "Removable Partial Dentures."